SCM Formula STR 32R Structure & Brushing Machines, INCLUDES FREIGHT
The standard formula rustication units/brushing machines are the ideal solution for rustication processing that highlight the hardwood vein or to sand the surfaces of cupboard doors/details in solid wood and veneered or MDF panels.
They are available in "r" versions with steel and Tynex® brushes, dedicated to the rustication of solid wood or in "I" versions standard fitted with abrasive insert brushes and inverter controlled motors for the machining of surface sanding.
Advantages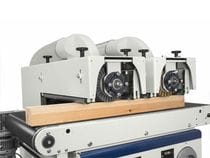 Perfect finish
The double operating unit allows to obtain the request finish in a single passage.
Effective extraction system
The large diameter exhaust hoods grants an optimal dust extraction.
The best adherence
thanks to the rubber belt with vertical grooves.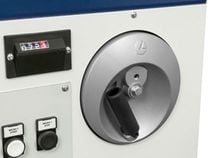 Operating units lifting
by means of handwheels and numerical readout.
Technical Data
Technical details
 
 STR 32R
STR 32L
STR 62R
STR 62L
Working units
 
2
2
2
2
Working width
mm
300
300
600
600
Maximum working height
mm
300
300
300
300
Units motor power @ 50 Hz
kW
3
3
4
4
Feed belt motor power @ 50 Hz 
kW
0,22
0,22
0,37
0,37 
Dust extraction hoods
mm
2 x 150 
2 x 150
2 x 150
2 x 150
Brush speed
g / min
1500
100 ÷ 1500
1500
100 ÷ 1500
Feed speed
m / min
3 ÷ 20
3 ÷ 20
3 ÷ 20
3 ÷ 20
Brush diameter
mm
190 / 190

230 / 230

190 / 190
230 / 230
Net weight
kg
440
440
750
750
Dimensions (LxDxH)
mm

L 1300
P 900
H 1300

L 1300
P 900
H 1300
L 1300
P 1200
H 1550
L 1300
P 1200
H 1550