Superfici Compact 3 Hybrid Two-Arm Spray Machine
The Compact 3 HY is suitable for those who need to paint small and large batches while maintaining high spraying quality with low costs. The machine is equipped with a hybrid conveyor system, which means that it is possible to work with a choice of a protective paper system or with the lacquer reclaiming system.
Aerospace, Antique and rustic furniture, Automotive, Bathroom furniture, Coffins, External doors and windows, glass windows, Flat pack furniture, Furniture components, Garden & outdoor furniture, Gunstocks and carved parts, Home furniture, Interior doors and door posts, Kitchen furniture, Marine, Motorhomes, Offices, shops and hotels furniture, Painting, Small objects, sport and toys, Tables and chairs, Waved parts
FLEXIBILITY: Pressurized cabin with hybrid conveyor system, this spraying machine can manage the small batches with the paper conveyor and the big batches with the lacquer reclaiming system.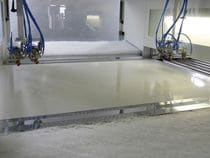 QUALITY: Double spraying arm is installed on a high precision linear guide.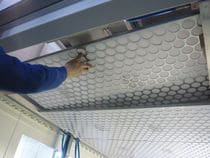 MAINTENANCE: Full-size doors access the cabin from both sides for easy cleaning and maintenance operations.
WORK PLANNING: A color touch-screen panel is integrated with our simple and intuitive software, which has the ability to set working parameters, memorize recallable recipes, diagnostics and periodic maintenance programming.
Compact 3 HY

Working width

1300 mm.

Workpiece max. thickness

90 mm.

Working height

900 mm.

Feed speed

2 : 6 m/min

Conveying system

Hybrid with paper protecting device and lacquer reclaiming unit

Electronic control

PLC or PC as option