Small and totally versatile: Two tools in only 3m2. balestrini pico om is a compact machine that manages to fit a real work centre in the floorspace of a small two-bench tenoning machine. Equally capable of butt works (tenons, butting, facing, multiple drilling) and side works (multiple mortising, milling and drilling). Two tools are sufficient to carry out all the required operations.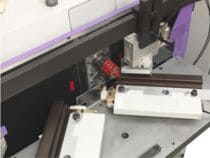 FOUR FUNCTIONS IN JUST 3 SQUARE METERS
The most compact machine in the market to perform tenoning, end-cutting, drilling and mortising.
RAPIDITY OF SET-UP
Shift from tenoner to mortiser in less than 10 minutes and work piece clamping with adjustable clampers.
HIGH MACHINING QUALITY
The NC has a tool diameter correction function to guarantee a tolerance of less than 0.05 mm by tenoning, drilling and mortising.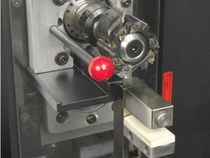 NO NEED OF TOOL CHANGES
The tenoning tool also performs the end-cutting operations; the drilling tool can perform drilling and mortising of any size.
| | |
| --- | --- |
| Workable piece dimensions | |
| Width x thickness with cut at 45° | 140x60 mm |
| Width x thickness with cut at 0° | 200x70 mm |
| Min. workpiece length | 100 mm |
| Tenons dimensions | |
| Tenon max. length hor. | 160 mm (larger on request) |
| Tenon max.length vert. | 100 mm |
| Tenon thickness hor. max. | 20 mm |
| Tenon depth | 5÷30 mm (larger on request) |
| Tenon tilt | 0°÷90° |
| Drill dimensions | |
| Ø | 0÷16 mm (double with interpolation) |
| Depth | 0÷30 mm |
| Mortise dimensions | |
| Mortise length | 0÷600 mm |
| Mortise thickness | 0÷16 mm (double with interpolation) |
| Mortise depth | 0÷30 mm |