Balestrini poweris the new range of SCM machining centers characterized by compact dimensions, power, flexibility and productivity, ideal for the production of indoor and outdoor furniture.
The various models differ in the dimensions of the portal structure, making it possible to process even very large workpieces.
Advantages
WORKTABLE MODULARITY
The crossbars worktable is designed for maximum modularity according to production needs. The workpiece locking equipment perfectly adapts to the machining of pieces of any shape.
The ramprex multifunction worktable allows optimum locking of the workpieces, using jigs or dedicated equipment (suction cups and clamps).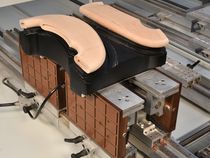 HIGH PROCESSING SPEED
With the5-axis revolver machining head units, all the tools necessary for the different operations are always available. This guarantees an execution speed without comparisons.
As an alternative, the PX5 single-electrospindle machining head unit is used for heavy stock removal.
SAFETY AND ERGONOMICS
The new protections with horizontal sliding doors perfectly meet safety and ergonomics needs during all machining phases. For the customer who wants to reduce the machine overall dimensions and, at the same time, have total safety, protections with vertical sliding doorsare available.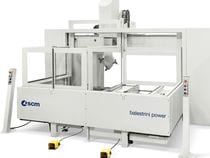 EASY 5-AXIS PROGRAMMING
The new 5-axis Smart Pro CAD/CAM software allows you to generate workpieces, automatically optimize and simulate machining operations in a single work environment, greatly reducing programming time.
Technical data
LINEAR AXES
X axis stroke
mm
3000-4000-5000-6000
Y axis stroke
mm
1800-2550-3550
Z axis stroke
mm
700-1000
X-Y-Z axes speed
m/min
90-90-60
WORKTABLES
Crossbars worktable - Multifunction worktable
MACHINING HEAD UNITS
PX5 - CS33 - CS44
Rotation speed max.
rpm
24000
ROTATING AXES
B rotation
°
+/- 120 (PX5) – 360 in continuous (CS33 and CS44)
C rotation
°
+/- 270 (PX5) – +/- 370 (CS33 and CS44)
TOOL STORES
Rack tool store
n° stations
6-8
Disk tool store
n° stations
16-20