celaschi p40 is the ideal solution for companies looking for a versatile and practical double-end tenoner, ensuring superior performances at the same time.
It can be used as a single machine for flexible lengthwise and crosswise processing or integrated within production lines; it is designed to meet the most typical panel machining needs.
The automatic adjustment of the operating units and the reduced set-up time make it a high-level machine while remaining easy to use and within everyone's reach.
Advantages
GREAT PERFORMANCESthanks to the workpiece feed speed up to 48 m/min and the pre-arrangement for in-line integration.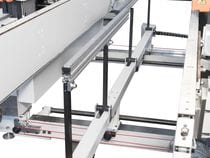 EXCELLENT FINISHING QUALITYon all types of material: solid wood, PVC, fibro-cement, rock / glass wool, insulating material, gypsum etc.
QUICK AND EASY CONTROLof the main functions of the machine with theeye-M PROconsole and theMaestro Square software.
Technical Data
MACHINE FRAME
2-3-4-5 operating units per side
WORKPIECE TRANSPORT SYSTEM

Maximum speed
Chain tracks centre distance
Dogs pitch

m/min
mm
mm

48
2250-4950
450

MOBILE BEAM

Maximum beam opening
Positioning speed

mm
m/min

3100 (6100 on request)
2,8-10

WORKPIECE DIMENSIONS

Width
Thickness

mm
mm

150-3100 (6100 on request)
3-150

BELT /PULLEYS SYSTEM WITH ELECTRONIC POSITIONING

Vertical stroke
Vertical adjustment
Positioning speed

mm
mm
m/min

20
3-150
0,25