Ideal for the company requiring a lean and easy workflow.
Single-blade beam saw controlled by PC/PLC control system, designed to cut solid wood panels or panel stack and its products (chipboards, MDF panels, multilayer panels, plywood panels and fiber panels).
Advantages
Selectable air blowing table: an essential tool.
The possibility to enable/disable the air blowing device on each table section via independent motors,ensuringoptimal sliding of the panels only where it is neededand avoids accidental falling of cut panels temporarily stored on the tables.
SAW SET: tool changing has never been so easy.
In few seconds the "SAW-SET" device carries out afastandprecise tools adjustmentdue to the electronic setting, allowing an intuitive use of the machine and a productivity increase.
Loading platform: when sturdiness and precision make the difference.
The lifting system, running on 4 large trapezoidal screws, as well as to maximize the load capacity in any material and format, alwas ensuresparallel liftingof the stacks of panels avoiding downtime and achievingmaximum productivity.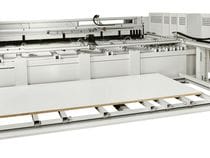 Meastro Cut: easy and powerful software to programme and create all the panels imaginable.
Intuitive,reliableand customizableoperator's interface depending on customers' needs.
Materials stock: creation of a panels storage with an integrated bi-directional connection to Maestro Watch
Off-cuts stock: automatic off-cut restocking that will be displayed together with the materials stock
Parts handling management during machining: parking solution for end products, off-cuts and scraps.
Technical data
Gabbiani ST 115
Cutting length
mm
3200/3800/4500
Cutting depth on platform
mm
1850/2200
Max. height of panel stack on platform with support beams
mm
600
Blade projection
mm
115
Saw carriage variable speed (option)
m/min
0 - 135 (0 - 150)
Pusher variable speed (option)
m/min
0 - 70 (0 - 90)
Main blade motor S6 - 40% (option)
kW
9 (11 - 15 - 18)
Scoring unit blade motor 50 Hz
kW
1,8
Main blade / scorer speed 50 Hz
r.p.m.
3900/6300
Main blade / scorer blade diameter
mm
400/160
Number of clamps (3 of which with frontal side aligner)
std
6
Video