Superfici Compact 3 Two-Arm Spray Machine with Cleaning or Reclaim Trolley
The Compact 3R is a high-performance spraying machine which gives you the most value for your money. Quality is obtained with a double reciprocating arm inside a cabin with a double filtration system. Compact and economical, it guarantees all the advantages of automatic spraying while remaining accessible to small and medium-sized businesses.
Application
Aerospace,  Antique and rustic furniture,  Automotive,  Bathroom furniture,  Coffins,  External doors and windows, glass windows,  Flat pack furniture,  Furniture components,  Garden & outdoor furniture,  Gunstocks and carved parts,  Home furniture,  Interior doors and door posts,  Kitchen furniture,  Marine,  Motorhomes,  Offices, shops and hotels furniture,  Painting,  Small objects, sport and toys,  Tables and chairs,  Waved parts
Advantages
QUALITY: Double spraying arm is installed on a high precision linear guide inside the pressurized cabin.
COSTS SAVING: Lacquer reclaiming unit SCRAPE ON WET is installed on a removable trolley to allow easy cleaning operations.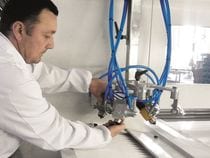 EASE: Full-size doors access the cabin from both sides for easy cleaning and maintenance operations.
WORK PLANNING: A color touch-screen panel is integrated with our simple and intuitive software, which has the ability to set working parameters, memorize recallable recipes, diagnostics and periodic maintenance programming.
Technical data
Compact 3 R

Working width

1300 mm.

Workpiece max. thickness

 90 mm.

Working height

900 mm.

Feed speed

 2 : 6 m/min

Conveying system

plastified belt with lacquer reclaiming unit

Electronic control

 PLC or PC as option