Superfici Magnum Spraying Machine
Spaying machine with a high production capacity. Ensured quality of the product thanks to the optimal distribution of lacquer even in more critical situations through the patented independent double reciprocators. The automatic change of the suction filters allows you to reduce maintenance operations without interrupting the production cycle.
Aerospace, Antique and rustic furniture, Automotive, Bathroom furniture, Coffins, External doors and windows, glass windows, Flat pack furniture, Furniture components, Garden & outdoor furniture, Gunstocks and carved parts, Home furniture, Interior doors and door posts Kitchen furniture, Marine, Motorhomes, Offices, shops and hotels furniture, Painting, Small objects, sport and toys, Waved parts, Wooden houses and walls
QUALITY: Thanks to a special Superfici patent, the reciprocating movement of the first arm can be offset from the second in a measure that can be set and recalled from the recipe, obtaining an adjustment of the overlapping of the two arms. This is an extremely useful feature especially in the case of critical spraying, such as applications of water-based lacquer, metallized, or gloss.
FLEXIBILITY: The ability to equip with multiple lacquer reclaiming systems and carpet cleaning units in the machine allows an instantaneous change of lacquers. Thanks to the presence of additional groups, the cleaning of the reclaiming units can be completed during the production cycle to avoid line stops.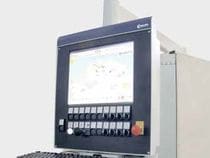 EASE: The system is integrated with an intuitive 3D graphics PC interface. The parameters, functions, and diagnostics can be remotely monitored via remote control. The software is able to manage automatic color changes up to 10 colors and can set all the parameters necessary for the specific painting operations.
CLEANING: This machine can be supplied with dry filtering with a double layer of filtering material and totally removable filtering boxes from the two sides of the machine. As an option, it is possible to have the patented automatic filter exchange system, FILTER ON DEMAND, which allows the dry filters to be automatically replaced when they are clogged. Alternatively, a water filtration system can be integrated which is strongly recommended for high quality finishes.
SPRAYING MACHINE MAGNUM mod.

2.1

2.2

2.3

3.1

3.2

3.3

4.1

4.2

4.3

working width mm.

1350

1350

1350

1350

1350

1350

1350

1350

1350

cabin length mm.

2000

2000

2000

3000

3000

3000

4000

4000

4000

machine length mm.

4950

5680

6450

5950

6680

7450

6950

7680

8450

No. of reclaiming units

1

up to 2

up to 3

1

up to 2

up to 3

1

up to 2

up to 3